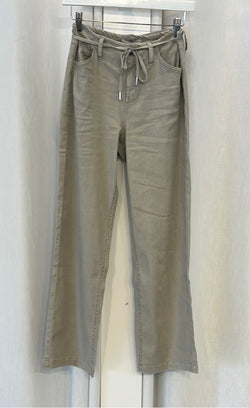 LEVEL 99 SUNDAE PANT - COMFORT
Level 99 Sundae Pant
Stay comfortable and stylish in these wide leg pants. Featuring a button/zip fly with a shoe string tie waist and front and back pockets 
Tencel™ is our zero-waste hero. Tencel™ produced from renewable natural wood pulp in an environmentally responsible closed loop process. In their closed loop manufacturing system, the solvent-spinning process recycles and reuse 99% of the water and solvent used.

Linen is made from flax. Linen is woven from yarns spun from cellulose flax fibers from the stem of the flax plant. It uses less water, less pesticides, less land and easily grows.

Linen and Tencel™ are biodegradable and can revert back to nature.
Comfort
51% Linen 46% Tencel™ 3% Spandex