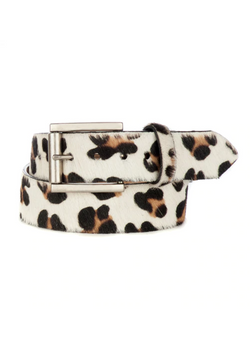 BRAVE LEYSA P BELT - WHITE LEOPARD
BRAVE Leather Leysa P  

The latest addition to their signature Hair-On collection is Leopard print. The neutral palette and distinct pattern make this a great option for all seasons.
Type: Bovine with hair on

This natural cow leather is tanned without the first step of removing the hair. The result is a natural leather that has become a BRAVE Leather hallmark. Some of the versions are totally unaltered, others are printed or embossed, but all are totally natural and pure BRAVE style.

Note: As with all hand-crafted, natural leather products, each piece has unique character with slight variations in color and natural markings.
White Leopard